7th February 2020
On Tuesday a lady from United Utilities came into school to do a 'Water Workshop'. We calculated how much water we use every day and she told us about how we can save water. We covered the water cycle and found out about what happens to waste water ….  and we will be learning more about that next week.
JM Year 6
31st January 2020
This week we enjoyed a visit from Amy's Care – a charity that provides different activities for dementia sufferers. I played with an old lady becuse it was really good and I enjoyed playing with her. I played the TRex game. It was funny because when it was her turn she forgot and didn't speak up, but she really enjoyed it. Other people talked and smiled and laughed, some enjoyed doing jigsaws and puzzles.
KH Year 5
24th January 2020
In maths I have learnt about changing fractions into decimals and in science we made panpipes out of straws – it was good! In PE we have done gymnastics – we learnt how to do different rolls and began to put them into sequences.
JW Year 4
13th December
This week I have played with year reception a lot and I went to do the school play. I enjoyed being a shepherd because you do the shepherd's Conga!  I liked singing all the songs. On the evening performance it was good being ion the dark and lots of people came. They thought it was good!
CG year 1
29th November
This week we have been doing short division, I'm not sure if I got them all right! On Wednesday we did dance which was great fun and we have made houses for our Christmas board. We also made carol singers to put up and some nice bows and baubles.
MW Yr 4
22nd November
Yesterday years 5 and 6 went to the athletics festival in Wigton. We came fifth. We had to do obstacle courses, sprinting, javelin and chest passes. It was fun, but hard too, because you needed to run really fast.
JL Year 5
15th November
I enjoyed playing with my friends outside and today we came to school dressed in our pyjamas for Children in Need. I like wearing my pyjamas because they are nice and warm. I liked maths this week – we are doing take- aways and dividing – I'm good at it.
FM Yr 1
1st November
Last night was our Halloween disco we all dressed up – I dressed up as a cat. There was a pumpkin competition and there was a game where you had to pop balloons and find a sweet. In geography we have been learning about capital cities and finding out about maps.
NR year 2
19th October
This week we did maths. We were partitioning and I was good at it. We also had a police officer come in to tell us how to be safe on bonfire night; we have to check for animals inside a bonfire and be careful with sparklers. You can put a carrot on the end. We did cricket with John. I enjoyed it and I got better at running and listening to instructions.  LT Yr 2
11th October
Earlier this week we  (year 3 and 4) went to Tullie House and learnt about the Stone Age to the Iron Age. We got to handle artefacts from the Stone Age and Bronze Age and replicas too. There was a time line and every step was a hundred years – when the Tudors finished the timeline was 100 steps. We had to look at artefacts and guess what they were for, but some even the archaeologist don't know what they were for. We had a good time. CL Yr 4
6th September
Yesterday we went to Keswick on a whole school trip – it was great. When we arrived we got off the bus and walked to the boat. We went right round the lake and saw boats, ducks, houses and walkways. We couldn't walk though, because the slipways were flooded, so when we were finished we got off the boat and walked to the park. When we got there we had lunch, but it was raining so we sat under a tree. When we were finished it cleared up and we played at the park. It was great fun! It was time to go back to school, so we got on the buses and went to school. Overall we had a fantastic day and we all enjoyed it so much!
IJ Yr 6
14th June
Last week year 5 went to Nelson Tomlinson School for a try out day. It was fun – everyone was nice there. Samba was very loud and we all got  to join in which was good. In Asia club we learnt how to draw manga and speak a bit of Chinese. We learnt about earthquakes in geography and got to design our own house.
HL Yr 5
3 May 2019
On Monday years 3 and 4 went to Rock UK and we did raft building and the wide game. The raft building was trying to build a raft and putting it on the water to float with barrels. We had to get our buoyancy aids and some people got some jackets, so it didn't matter if we fell in – but only your bottom half would get wet. It was really sunny and five people fell in the water! The wide game was when played really fun games and we played stuff that we hadn't heard of before. We all had a great time and we got split into two groups …..it was very tiring and a long day but we had a great time.
J Yr 4
29th March 2019
Last week we all enjoyed performing the U Dance in Carlisle. Our dance was about have hopes and dreams for our futures. Lots of people came to see it and they all seemed to enjoy it. It was hard waiting to perform, as we had to be very quiet – but we managed! We are now all looking  forward to the holidays and the fun things we are going to do in the summer term.
J Yr 5
22nd November 2018
This morning we went to the year 5 and 6 athletics festival at Nelson Thomlinson School; there were 7 teams there from other local schools. I took part in 2 track and 2 field events. First I did the soft javelin – it was really hard to throw and it kept hitting the floor instead of going through the air. Next I did the standing long jump and I think I did pretty well and I jumped well over a metre. After that we had some team events. The first one was a obstacle relay, which was fun ( at least I didn't get stuck in a hurdle like one of our boys) and then it was the sprint relay, which we did in 58 seconds. Overall our team came 6th, but I think we did really well. I hope I get to do it again next year.
LS Y5
8th November 2018
I thought today was going to be wet and rainy, because we went to cross country, but actually it was dry and cold – we had lots of layers on! We had to take it in turns to run around the field at Wigton Infant School and it was like a big relay, so when one person finished, the next one started. After the first lap, we were in the lead! I couldn't believe it! But as the laps went on, it got harder and harder for us to keep up, especially because the children from other schools were much faster than we were (even though we have been practising every lunchtime). In the end we came 6th out of 9 teams, which I think was pretty good considering we are such a small school – we only had one team! We all enjoyed it, despite the cold and not winning.
SS Y6
31st October 2018
Today Priya came in to school to teach us a bit about the Hindu festival of Diwali. She taught us a dance that told the story of Rama and Sita. I was a courtier in the palace and an animal living in the forest. It was really good fun learning how to do a different type of dance.
AO Y3
27th September 2018
Today some of year 3 and 4 went to the tag rugby tournament at Wigton Rugby Club. We set off at lunchtime, after we had eaten our food. They put us in to a group (there were two groups) and each group had five different teams in it. We had to play all of them to see if we could get to the top of the group. Even though we only lost one of our games, we didn't manage to get to the top, but we still did really well and we had a brilliant afternoon out. Miss Stobbs was very impressed and proud of us.
JP Y3
10th September 2018
Today the year reception children started full time!!! Buddies are really hard work – it didn't matter how much I spoke to mine, he wouldn't talk back and every time I asked him to do something, he completely ignored me or told me to go and annoy someone else. I have found out that being a buddy means changing shoes, putting coats and bags away and cutting up lots of food at dinner time. I hope it's going to get easier over the next few weeks.
TO year 6
5th September 2018
Today was our beginning of the year whole school trip out to Winlatter Forest Park near Keswick. It was quite exciting, because tomorrow the Tour of Britain is going to finish at Winlatter, so it was full of TV cameras and people setting up for the big day. I don't think Mrs P realised that this was happening!
To begin with we went for a walk on the Gruffalo trail, which was about a mile long (my feet were hurting by the end of it). Then we stopped for lunch at the top of a hill and we could see all the mountains around us. When we'd eaten, we went on the 'wild play' equipment and went mad climbing and getting wet in the water area. The best but was 'the stone factory' where you get to move stones around with pulleys and levers. We got really mucky doing this. After about an hour, although it only felt like 20 minutes, we had to go back to the bus. Time flies when you're having fun in the sun.
BS Y5
2nd October 2017
So we have now been back at school for four weeks and what a busy time it has been! Now that I'm in Year 6, I have two buddies in Year Reception and it has been quite hard looking after them; they like to chase me lots on the playground, which is sooo tiring! It has also been quite fun looking after them, because it is nice to have people to look out for.
CF Y6
27th September 2017
We have been learning about the Stone Age in Year 3 and 4, so we went to Castlerigg today to have a look at the stone circle. It was interesting, because we found out they used the circle for meeting and ceremonies. It was cloudy and a bit cool, but luckily the rain stayed away! I'm looking forward to going to Tullie House next week to find out even more about the Stone Age.
BS Y4
26th September 2017
Earlier today, my class (Year 5 and 6) went to Lakes College for a science show, which was about the human body. I really enjoyed it, because we got to actually see inside someone's body, which was interesting and disgusting at the same time! My favourite part of the show was when the demonstrator sprayed water at everybody; we definitely didn't expect that!
The football tournament took place last week at the local secondary school. We did really well, because out of eight schools there in total, we came 4th. I was really proud of our team, because a lot of the other schools had many more players, who play for teams out of school, but it was the first time we had played as a team and we were really impressed by each other's skills and attitude.
IP Y6
14th September 2017
Yesterday, our school took part in the local football tournament. When we got there, we had to climb over a gate, because there wasn't a key to open it. After getting everyone (including Mrs J!) over the gate, we started practicing and getting warmed up. The first game we played certainly wasn't easy, but we played really well and lost only by 2 goals. It was quite exhausting, because we literally didn't stop all afternoon (there were lots of red, sweaty faces by the end!). I felt really proud to be part of the team and I'm looking forward to hopefully taking part in more festivals throughout the year.
JL Y6
22nd June 2017
We had a brilliant day on Thursday! Mrs P arranged for us to have a surprise day out at the Lakes College to see the 'Bloodhound SSC' car; SSC stands for super-sonic car! First of all, we got to watch a video about how the team are trying to break the land speed record and we found out that the car is hoping to travel at over 1000mph. Then we were split in to groups. We were then set a challenge to build a K'nex car that would be powered by an air compressor. It had to travel further than anyone else's did. In my team there were 4 people and we worked hard to make the car streamlined and go in a straight line. We kept making small changes to the tyres until we were happy that it would hit the door at the end of the hallway.
Then all the groups had a competition and everyone raced their cars. Ours was amazing! It flew towards the end of the hall and hit the door! That meant we were in the finals! And guess what? We won! The prize is pretty amazing; we get to have our team name -The peregrine Falcons (because it is the fastest animal on Earth) -on the tail fin of the real Bloodhound car and it will stay there for ever!
EE Year 6
13th June 2017
Today some of year 5 and 6 took part in the Wigton cricket competition. There were more than 12 teams there so we didn't really think we had much chance of winning, because our team is quite small. We were split in to different groups and we had the first 2 matches to play against Wiggonby and Kirkbride. Both games were quick and we managed to win both of them ( surprisingly, although Mrs J said we were excellent at our bowling). Because we had won both teams, we got through to the semi-finals. We played against Richmond Hill in the semi-finals and because we got some good wickets, we won too. That meant we were in the final! We celebrated for a while, but then we realised that we'd have to play Fairfield, who had lots of children who play for the county, so we knew we'd have to play better than we ever had. Our bowling was brilliant, but sadly, we didn't get enough runs to win, although Fairfield only won by 20 runs! It was a brilliant day out and, amazingly, it didn't rain! Mrs J said she was dead proud of us all.
IP Year 5
12th June 2017
I liked all of our London trip, but the best bit was when we went to see 'The Lion King' the night before we came home. The costumes, especially the animals were really good and the singers were excellent. It sent shivers down my spine. When I looked down my row at the rest of the class, they were all sat there with their mouths open and they were all quiet. Although it lasted over 2 hours, time seemed to pass really quickly.
LA Year 6.
12th June 2017
The best bit of our London visit was going on the London eye because you could see for miles. When we first arrived, it was raining heavily, but when we got on the sun had come out and you could see everything. I felt really nervous at first, because I am a bit afraid of heights, but it moved so slowly, that I realised there wasn't really anything to worry about. We took lots of photographs and waved at people in other 'pods'. It lasted half an hour; it took 15 minutes to get to the top and that was when you could see the entire city. It was brilliant. I would really like to go again!
AP Year 6.
12th June2017
Our London Visit.
Last week we were on our residential visit to London; it was amazing! My favourite bit was going on the London Eye, which we did first, because the view was magnificent. You could see every icon on the London landscape, from Big Ben to Buckingham palace. I also really enjoyed visiting the 'Wonderlab' in the Science Museum, where you could play with different exhibits that let you explore forces, materials, sound and light; the best bit was where you could change how fast water fell from a tap -it was amazing.
B.P. Year 6
6th February 2017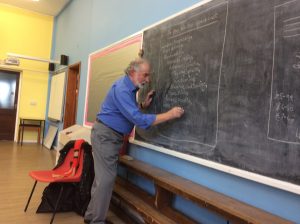 Today the children's author and poet Wes Magee came in to school to work with year 5 and 6. We got to write our own stories and poems, with Wes' help, and we got to illustrate our work and perform it. We had a really good day.
Friday 10th June
Today we composed a song to celebrate the Queen's birthday. Here are the lyrics and the recording of our song: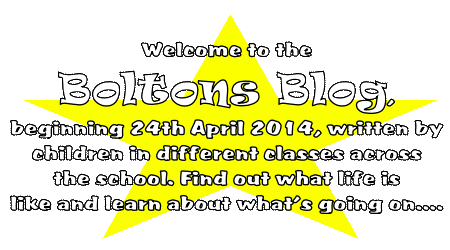 We wish you a Happy Birthday
You rule your kingdom well
Thankyou for making our land so safe
You're gracious, we can tell
You love your precious Corgis
And all your thoroughbreds too
You're the longest reigning Monarch
We are all thinking of you
You're the Queen, the best Queen ever
You're the greatest Monarch ever
You're the Queen, we will always remember
Happy 90th Birthday to you.
You're thoughtful, kind and caring
You're famous around the world
As wise as an owl, as graceful as a fawn
As precious as a untouched pearl
You're the Queen, the best Queen ever
You're the greatest Monarch ever
You're the Queen, we will always remember
Happy 90th Birthday to you
By Year 5/6 Boltons School
On the 17th of March 2016 year 4 and 5 went to do the U.Dance at the sands centre. At school we got dressed into our dance costumes and then went on to the bus. We themed our dance around the pirated of the Carribian. When Year 4 and 5 got there we went into the stage room to do rehearsals and see other schools doing their dances. Before we rehearsed our dance we did blocking which is the places that we will be going into while our dance. After that we had our packed tea upstaires in a big room with other schools as well. Then it was time to watch the first half of the dancers up at the top. Finally it was time to go back stage. As soon as we finished our dance everyone wanted to do it again. We all went back to watch the rest of the dances.
By IP and AH
Friday 11th March 2016
Today is non-uniform day where we come in our own clothes. We usually pay in one pound, but, due to chocolate bingo coming up, we payed in chocolate instead. As well as non-uniform day, it is all so world food Friday so we had American dinner. It was yummy.
EJ Yr5
Friday 11th March
On Monday we had an archery day, all of the school joined in and we had lots of fun. To teach the leason a person from blaithwait house, just down the road from Bolton Low Houses, he was called Dom or Dominic. We were split in to teams ( Robin hood, maid marion and little john) each team had 5 people in. 1 team went up to the stands and each person shot 6 arrows each then the next team ect. then we played a game. we went up with our teams and shot 3 arrows if we missed the first we had to go to school if we didn't there was lots of other options then we took a 2nd shot this decided who we went with then the 3rd that decided how we got there. I had to go to school with Homer Simpson in a limo. On Wednesday yr4 and 5 do udance we are doing it to the pirates of the caribean theme tune. It is really fun and it is fun to get taught by Miss Bragg instead of Mrs Gibson.
MM Yr5
Thursday 3rd march 2016
Today it was World Book Day. Instead of dressing up as our favourite book characters, we decided to have a pyjama day in school. We spent the first hour in school reading our favourite books to ourselves and each other. We got either a bacon or a sausage sandwich.
AW Year 6
Thursday 3rd March 2016
Today it was World Book Day. Instead of doing the usual and dressing up as our favourite book charectors, we decided to have pyjama day in school. We spent the first hour in school reading our favourite books to ourselves and eachother. We got either a bacon sandwich or a saussage sandwich. We also got hotchocolate, grapes and melon! Everyone enjoyed just crawling out of bed and coming to school without having to get dressed. (Most of us changed our pyjamas before we came to school, though) It was a very fun and snug day.
FB Year 6
Thursday 3 of March 2016.
There was a rugby tourmanent at Wigton rugby club where different schools came to play. it was a year 5 and 6 tourmanentt and we came 4th out of 8 different schools. The coaches were year 11s from Nelson tomlinson school. there was 4 different piches  and we played on 1 and 2. we all enjoyed it alot.
SR year 6.
Monday 15th June 2015
Today, we did an Indian dance and we watched year 1,2,3,4,5 and 6 dance it was fantastic. We all loved learning and preforming it. It was great fun especially when we saw all the people there. Year 4 and 3 danced with sticks it was amazing. The year 1 and 2 dance was a welcome dance and they did really well considering their age. The year 5 and 6 dance was a Bollywood dance and they were really good. ZO and JN Y6
Monday 23rd March 2015
On the 20th March 2015 we had chocolate bingo from 19:00 to 21:oo. We were really excited and couldn't wait. It happened that me and my brother won chocolate. We did lots of activities, like bingo. Also if you got a number and stood on a chair and your number got called out, you were out.
Today we had Easter Craft Day for the first time.. We did lots of different activities like baking, friend ship bracelets, hangings, key rings and friend ship cards. We had lots of fun.
DU and BU Y5/6
Friday 6th March 2015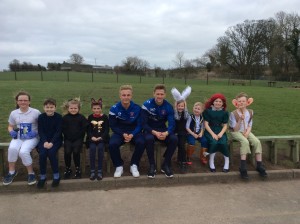 Yesterday it was world book day and most people dressed up. In Assembly we had a competition, where there was at least one winner from each class. We really enjoyed dressing up as one of our favourite book characters. We liked seeing other people dress up as their favourite characters too.
Some of the adults dressed up too and they looked very good and funny.
EJ and HB Y4
Monday 2nd March 2015
This term I started ICT club with Miss Whittaker. I was looking forward to doing it, because all of my friends were doing it. Currently, we are learning to create and program different games.
EJ Y4
Monday 23rd February 2015
On Saturday 25th of January we went to a five a-side football tournament at the sands centre in Carlisle. We didn't do that well but we enjoyed it and played well as a team and we would like to give a special thanks to Miss Whittaker for organising the team and giving us encouragement.
On Wednesday 11th of February we went to a year 5/6 rugby festival on the astro turf at Wigton rugby club. We played very well in the first round of games, because we won all of them but we found it hard to get past the other team in the final playoffs. Overall we came second in the tournament.
JJ and DR Y6
Monday 10th November 2014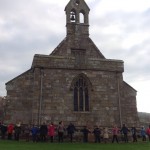 I liked the trip to Boltongate Church. We did three things after the service. The first was to look at some pictures of people who died in the war. The next was to see the names of people who died in the war, and the last step was to look at some medals on the wall. Afterwards we all made a circle around the church, holding hands.
MC Yr3
Monday 10th November 2014
Today we made poppy collages with red paper and shiny pink paper. It was great fun, even though we got our hands covered with glue. I think everyone enjoyed it. It was fun!
AP Yr4
Monday 10th November 2014
Yesterday was Remembrance Day, so today Yr5 sowed some fabric shaped poppies and leaves onto a piece of material. It was actually harder than you thought to sow. One boy in the class had sowing lessons before and he didn't get a single thing wrong. I thought that was quite impressive. Some people were getting things right and other people were getting some things wrong, but that doesn't matter. We all tried and it was fun.
LF Yr5
Friday 7th November 2014
Today we started learning the songs for Joseph and His Technicolour Dream Coat.I really liked the Potiphar song. I am going to be a hand maiden in the show.
AC Yr5
Monday 3rd November 2014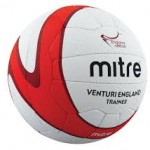 We and Mrs. Scott went to Tomlinson Junior School for a netball tournament. There were eight teams competing and we won all of them apart from the Tomlinson Junior A Team. We won the small school award, so we are going to the next round in Maryport!
ZO Yr6
Monday 20th October 2014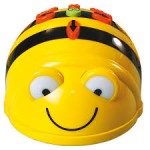 In the ICT Club we have used lots of technology and learnt how to use it. I liked using the BeeBots the best. I like the way it remembers where you want it to go.
EE Yr4
Monday 29th September 2014
In Maths we did column addition and it was so fun.
7800+
8921=
Then we did decimals.
RJ  Yr5
Friday 26th September 2014 – Skipping Day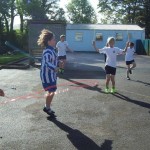 The whole school did skipping. We did lots of skipping and challenges. Near the end we played a game called Limbo. You are not allowed to touch the ground with your arms and hands.
EE Yr4
Wednesday 24th September 2014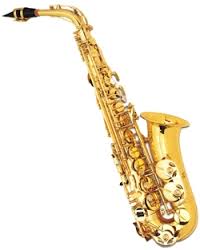 My first saxophone lesson was fun and good. I really enjoyed it but I couldn't choose from the soprano or the alto saxophone.
RW Yr5
Friday 12th September 2014 – Zoolab visit
Today Zoolab came to school and they brought their animals to show us. They told us a story as well. The first animal was a giant snail. We got to hold it and then we listened to the story. The next one they took out was a hissing cockroach and we got to hold that too. The next animal was a frog. We were not allowed to hold it though because it would bounce everywhere. The next one they took out was a tarantula and the last one was a millipede. It did not get very far!
EF Yr4
Thursday 11th September 2014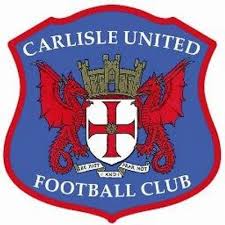 Every Thursday Carlisle United comes to Boltons to teach us football. Today we had them for the first time this term! Carlisle United are teaching us skills like dribbling, passing, shooting and other things too. After all of the things we do at football we play a couple of matches. We have a few teams and do a mini tournament!
LJ Yr6
Thursday 4th September 2014 – Keswick trip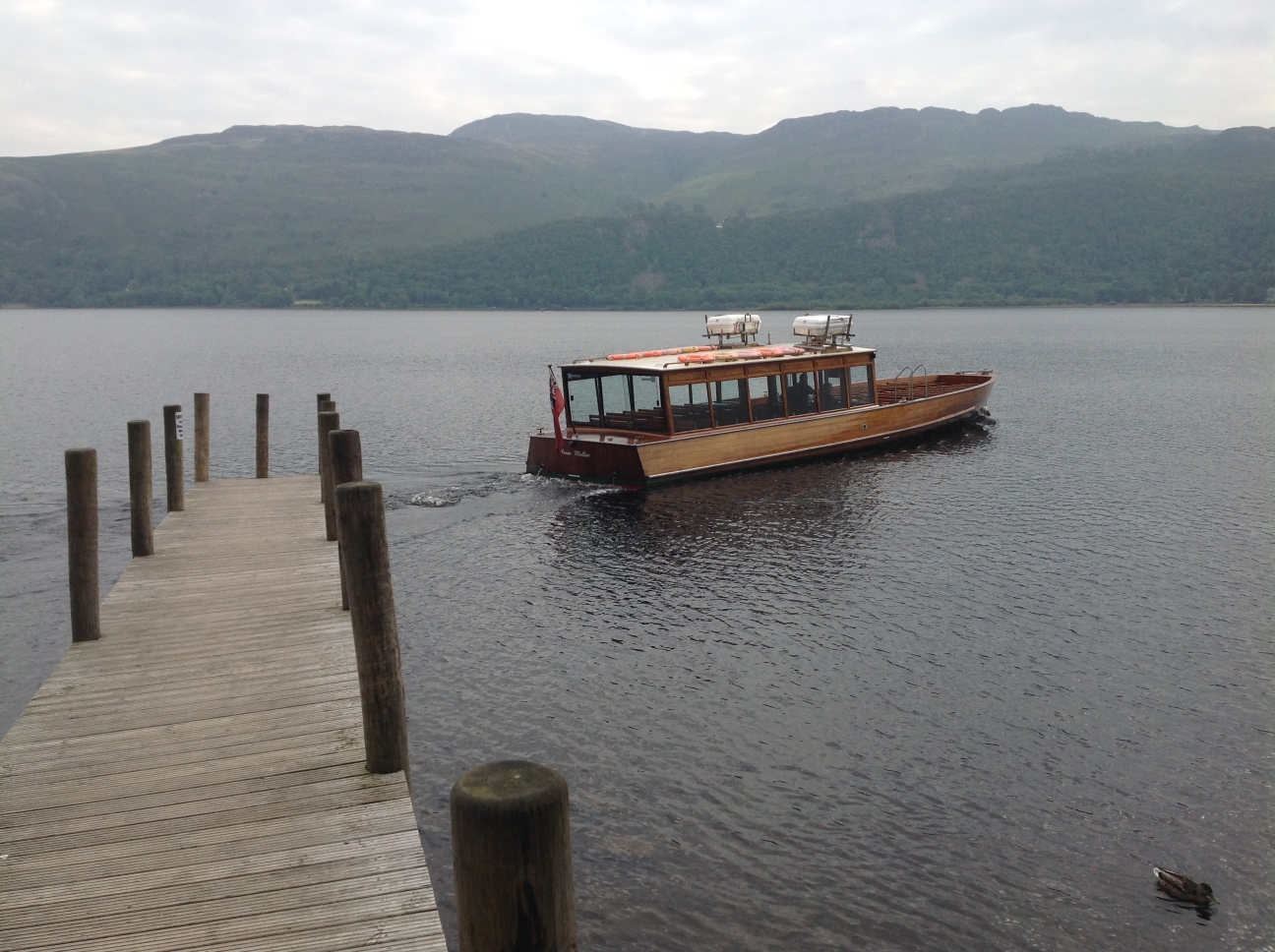 Today the whole school went on a trip to The lake by Keswick, Derwent Water. When we got off the bus we walked down to the boats. We got on a boat that said Annie Mellow on it. Then we sailed to another dock.  We got off the boat and had a long walk. Then we were all hungry. We had our lunch and we played for a while . We were also allowed to feed the ducks. Then we lined up and did the long walk again. After that we waited for the boat. It finally came and we all walked on it. It sailed to the place where we started. We walked off the boat and went back down to the bus and went back to school.
LF Yr5
Wednesday 3rd September 2014
Today we had our first school dinner. I chose pasta bolognaise and I liked the dinner. It was good and tasty. I would say 10/10 for the best dinner that I ever had.
AP Yr3
Friday 17th July 2014 – Fantasy Clip & Climb Story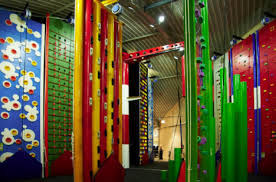 Yesterday the Year 6 class went on an amazing voyage through the mystical land of Maryport to defeat the evil climbing walls of dooooooooom!
Firstly we had to go a local tavern called the park. We planned our tactics to defeat the evil climbing walls. We ate the magical chips from the alchemist shop in Maryport, this way our brains would be concentrated on the highest level of superior thought. As our plan slowly developed into an ingenious scheme we had concluded that we would have to attack through the mother ship known as Clip and Climb!!!
We would attack in groups led by the bravest of teachers and parents. We charged into the building with our fists up high ready to defeat the evil doom of Clip & Climb…
This was our story about Clip and Climb, as today this is our last day of school and we are departing this brilliant school and we are joining a new school, which will hold great experiences.
Written by ES, JF and LE.
Friday 18 July 2014
Today, the 18th of July, is my last day a Bolton's. I have had lots of fun here and will be sad when I leave. I can't believe today is my last day as I can still remember when I was in yr Reception. I will miss everyone, but I am looking forward to Nelson Tomlinson.
MR Yr6
I have really enjoyed my time here at Bolton's and I will really miss the school. I am looking forward to Nelson Thomlinson in September. I will miss all of the teachers and children here, but I will never forget them. 
AB YR6
Monday 14 July 2014 – French Carnival Day



It was French Day and we were wearing red, white and blue. The first thing that we did was we played in the band. There was a big audience in front of the whole band. We sang songs and also played our instruments. The final song was a famous song called Alouette. After the band we all had lunch outside. There were 5 tables full of food and we had to be quick so that the other classes could come in to get theirs. After we went outside and had our lunch in the wind and our food started to blow away.

My favourite activity was guessing the birthday of David Guetta so I put the 3rd of November but I know now it's the 7th of November. Also my other favourite activity was colouring the t-shirts and I did them green. But I never won that either. The one that I really liked was the Hook a Duck. I won that once but I never won the second one. Next I went to make a tower out of white straws. It was quite hard but still a friend helped me and we worked together. We were in a rush because I had to go home soon. When I was making the tower, my sister came up to me and told me that we were about to go home now. I enjoyed French Day!!
Click to listen to and see the French Carnival Day
AH Yr3
Thursday 11 July 2014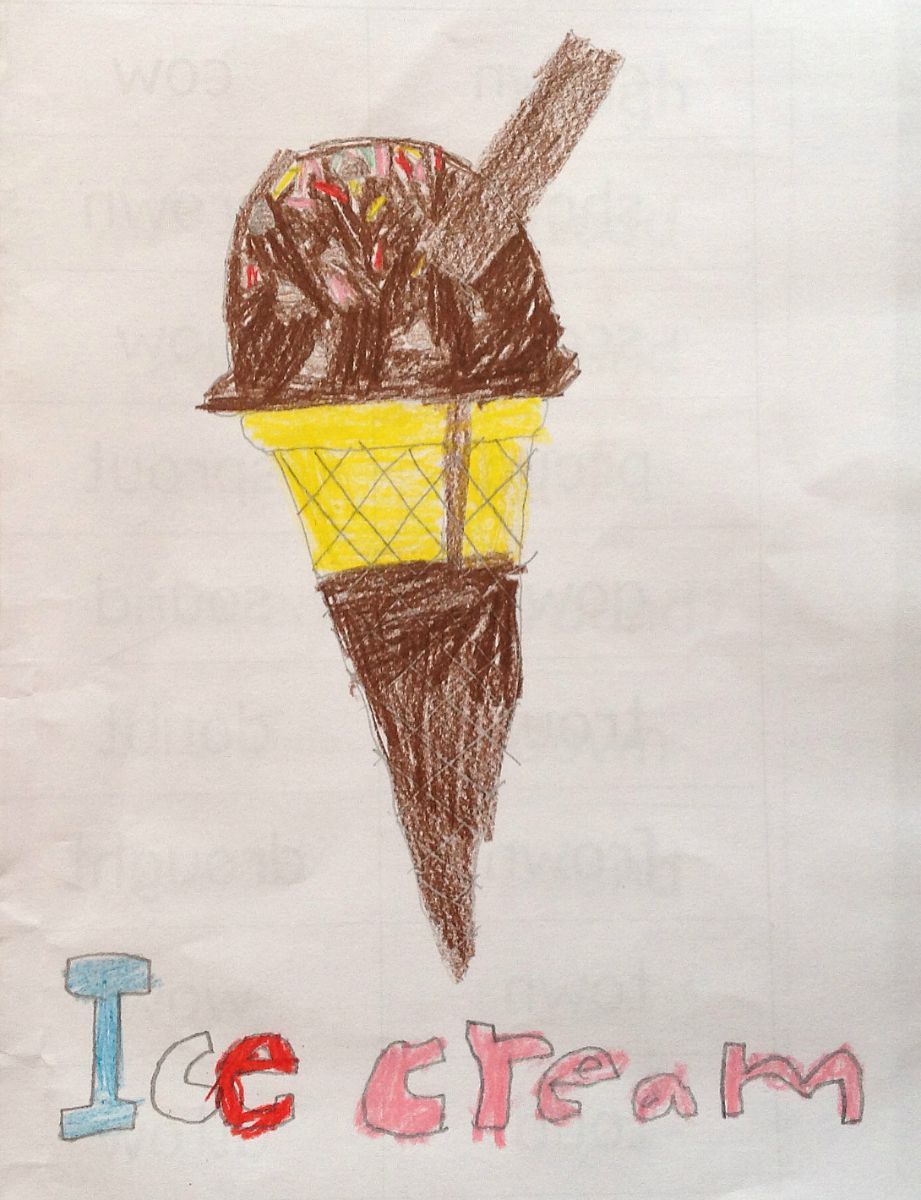 Today Year 1 and 2 went to Allonby beach and I found lots of cool things. I found a volcano rock and a shiny rock. I also found bits of a broken pot.  Then we went to the Allonby park. It was lots of fun. Before we went back to school we had ice cream and by the time we got back to school it was time to go home.
JSR Year 2
Monday 7 July 2014 – Visit to Nelson Thomlinson School



Today Year Six went to Nelson Thomlinson for a day. When we got there we went into the hall because some of the teachers wanted to talk to us about how it is at the school. We got into eight groups and set off for our tour. After we had lunch we had break time and then we had our first lesson. Our first lesson was French and we learnt a few words. Then it was lunch which lasted about thirty minuets and then we had break time. After that we had ICT and in that lesson we learnt how to do a magic trick and also a bit of maths. Finally it was home time and that would be the last time I see it until September! I really enjoyed that day.
JF Yr6
Friday 4 July 2014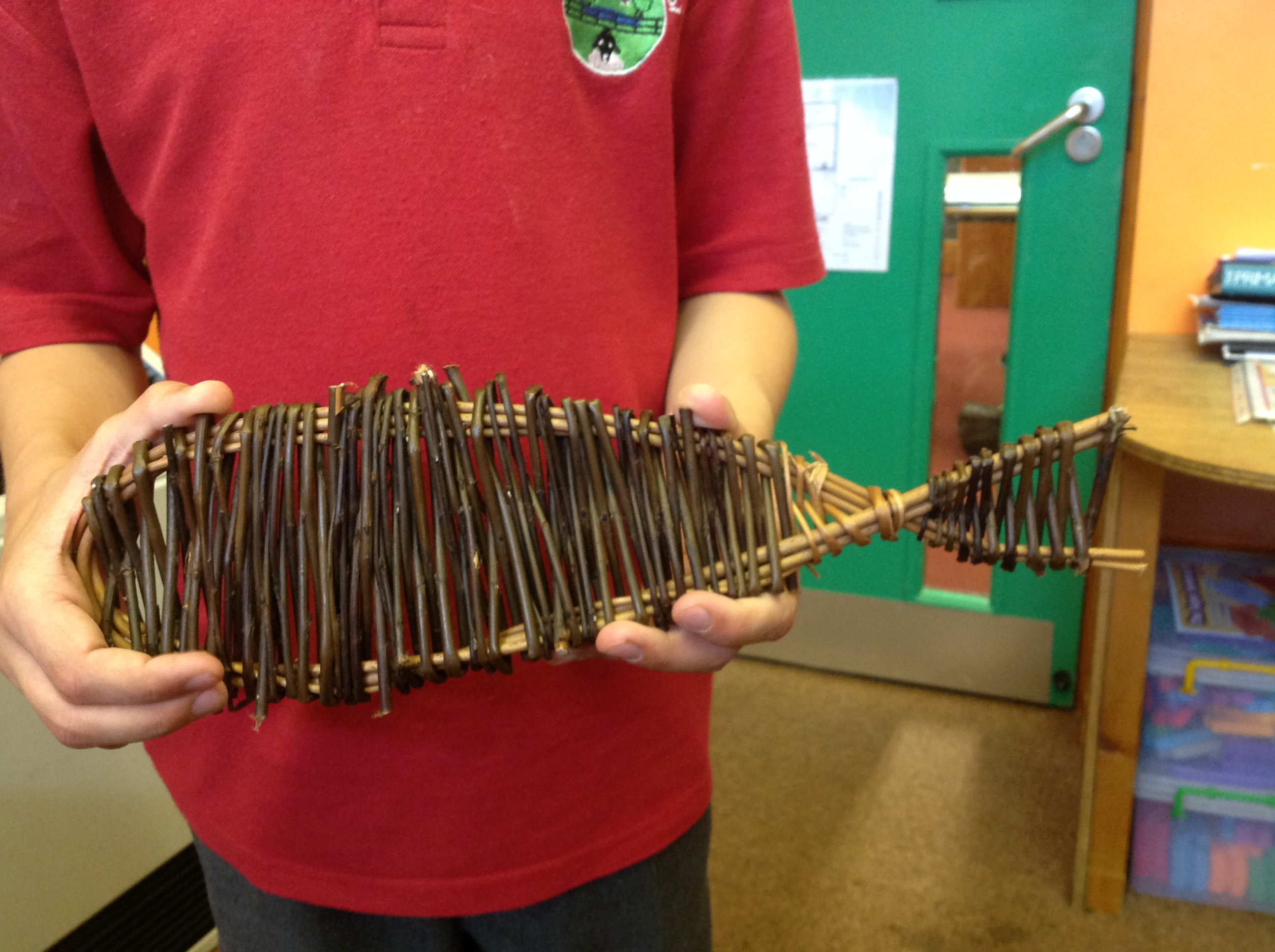 For Show and Tell I brought a wooden fish from the fair. I made it by winding wood around wood until it created a fish shape and I love it so much. It took me a long time to make it. It now stays in my room on my shelf and I adore it. I have 1 of them in my room and I have looked at it 59 times in my life.
by MC YR2
Thursday 3 July 2014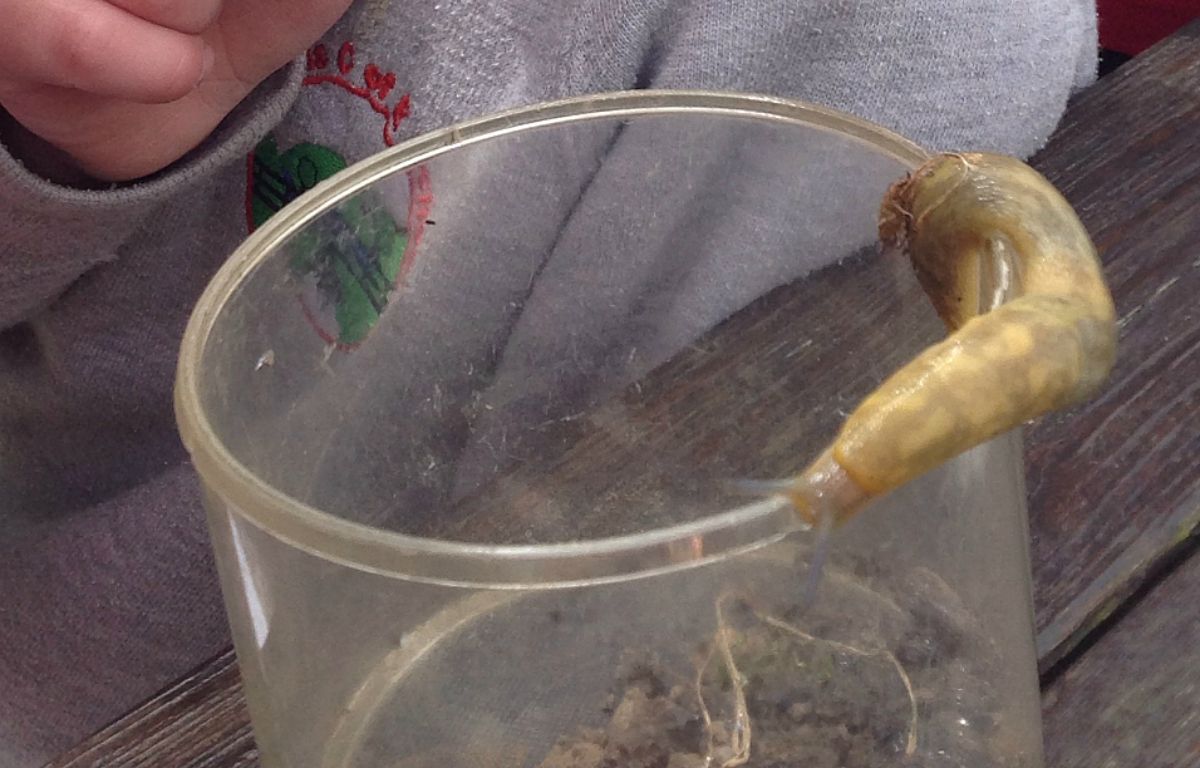 Wee went on a minee beest hnt. I likd the slug becoz it went aut ov the jar.
JL YR
Thursday 3 July 2014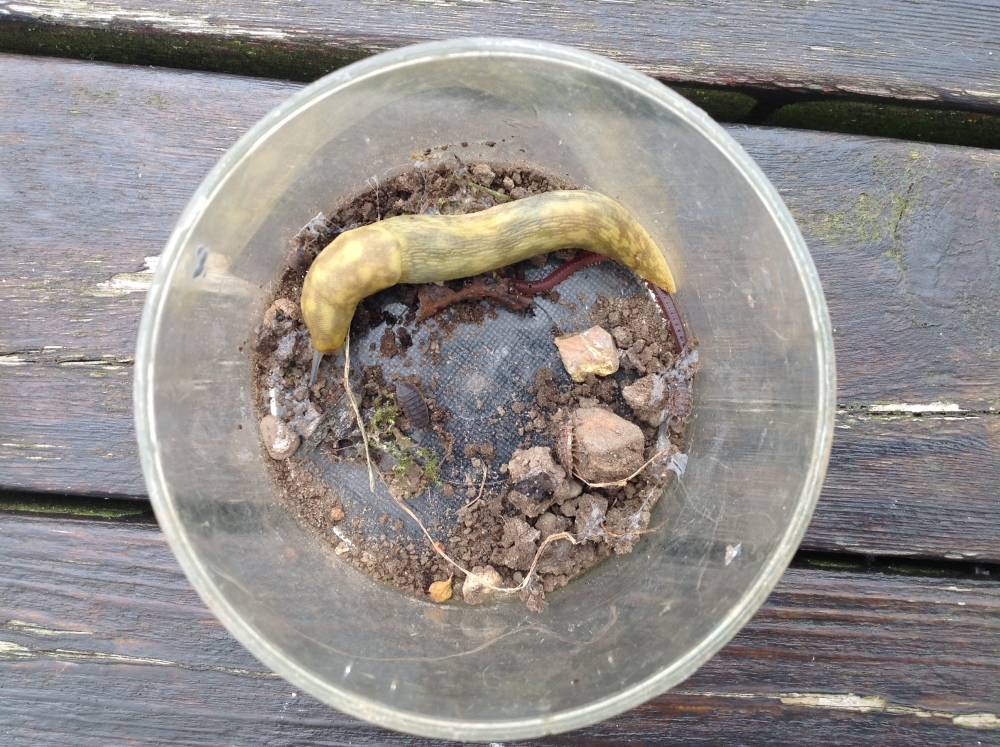 I had a minny best hunt
I liked the big slug
I liked the little slug
I liked the minny best hunt
I like the minny best
IJ YR
Wednesday 2 July 2014 – Sports Day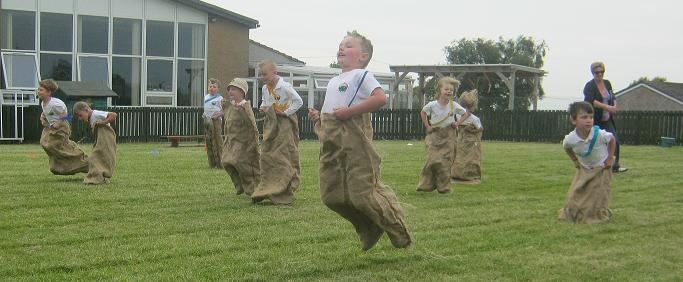 Today was Sports Day and all of us were excited. I was looking forwards to the sack race and the running race. I was in the blue team and heat 2! We were told to sit on a mat with your year and wait until you were called up. We had to do the disc and ball race, which was really hard, skipping race and the potato race. When all the races were finished, Mrs Pitcher told us the results. First it was the blue team, then the yellow, green and red. Our team leader got the trophy and we all had an ice lolly.
AH Y6
Monday 30th June 2014
Beamish Museum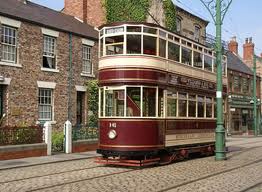 On Monday morning, I went to Beamish in Durham on the bus with Year 3 and 4. When we got there we were split into two different groups.
My group went to the Victorian school; in the boys entrance to the first classroom which was where Year 1 and 2 would have worked. After that we went into another classroom where we had to write a poem called The Bee. The punishments were: putting your hand in the air for half an hour and if you stopped you would have to start again. The cane, the hat with D on that was embarrassing for them. The punishment book was another punishment, if you were a girl you would sit in between two older boys and if you were a boy you would sit between two older girls.
Next we went to the colliery houses and we found out that they did not have electricity. We also found out that they used a fork over the fire to make toast. Five children would have to share a bed! Can you imagine it?
After that we visited the mine and put our helmets on. Then we went inside the mine with a man. He took us to a machine, it was deafening, it was dusty. It got in their eyes and into their lungs which eventually killed them.
It was lunchtime. We sat on the grass near the fairground next to the other group who were eating their lunches on the bench next to us. When I had finished my lunch I talked to my friends while everyone else finished their lunch.
Next we went to the town. We first went to the dentist and I found out that they had a red velvet chair because if blood went onto it people wouldn't see it!
After that we went to the sweet shop and I bought gobstoppers and cola squares (altogether it cost £1.50).
Later on we went to the bank and there were 240p in £1 but we only have 100p in £1. They had bigger £5.
Some of my group were very envious of the other group who were allowed to go on the tram and we had to walk back.
Written by BU (and JK)
Friday 27 June 2014
Today Year 3 and 4 did an assembly about Buddha. Some children have been working on a slide show and showed all the parents that were watching. They explained everything that was on the whiteboard and someone clicked the mouse for the slide show to go on. Everybody else was saying lines about Buddha's life and what he taught. We explained what Buddha did in life and the four sights. Also we showed everyone how to meditate. Someone  introduced everyone before we started the assembly and at the end all the parents gave us a clap.
LF and ER Yr4
Thursday 26 June 2014
Today I was doing halving and doubling. We did a little treasure hunt. We saw flags all over the world. I loved it!!! There was clues that we had to solve.
SP Yr2
Monday 23 June 2014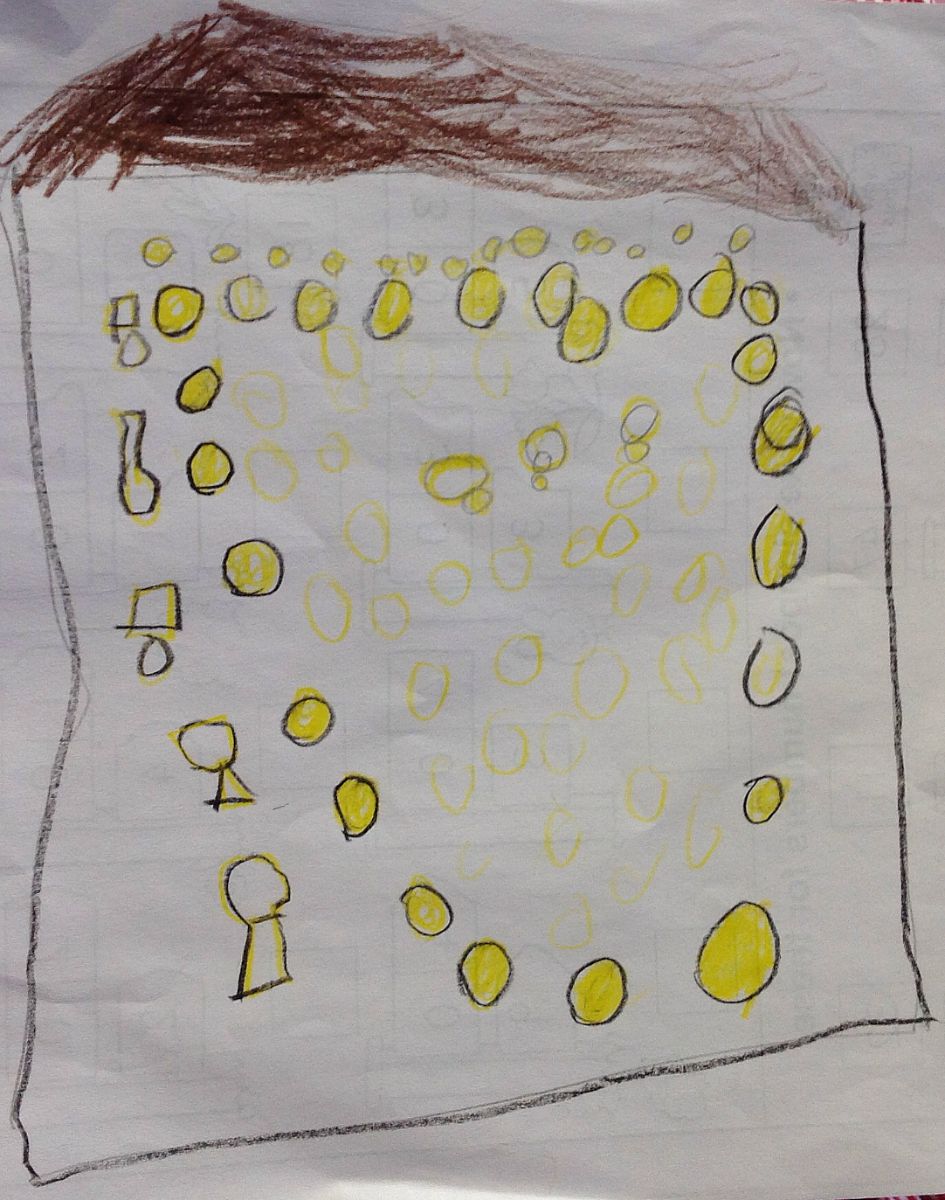 On Sunday I went to a car treasure hunt. You had to look for things that it said on the list. I found a feather on the side of the road. I past Auntie Marys house. Then I went to find something else to find. At the end all the people that were doing the car treasure hunt went to a play area. We played in the ball pool and we jumped in the ball pool.
PT Yr1
Friday 20 June 2014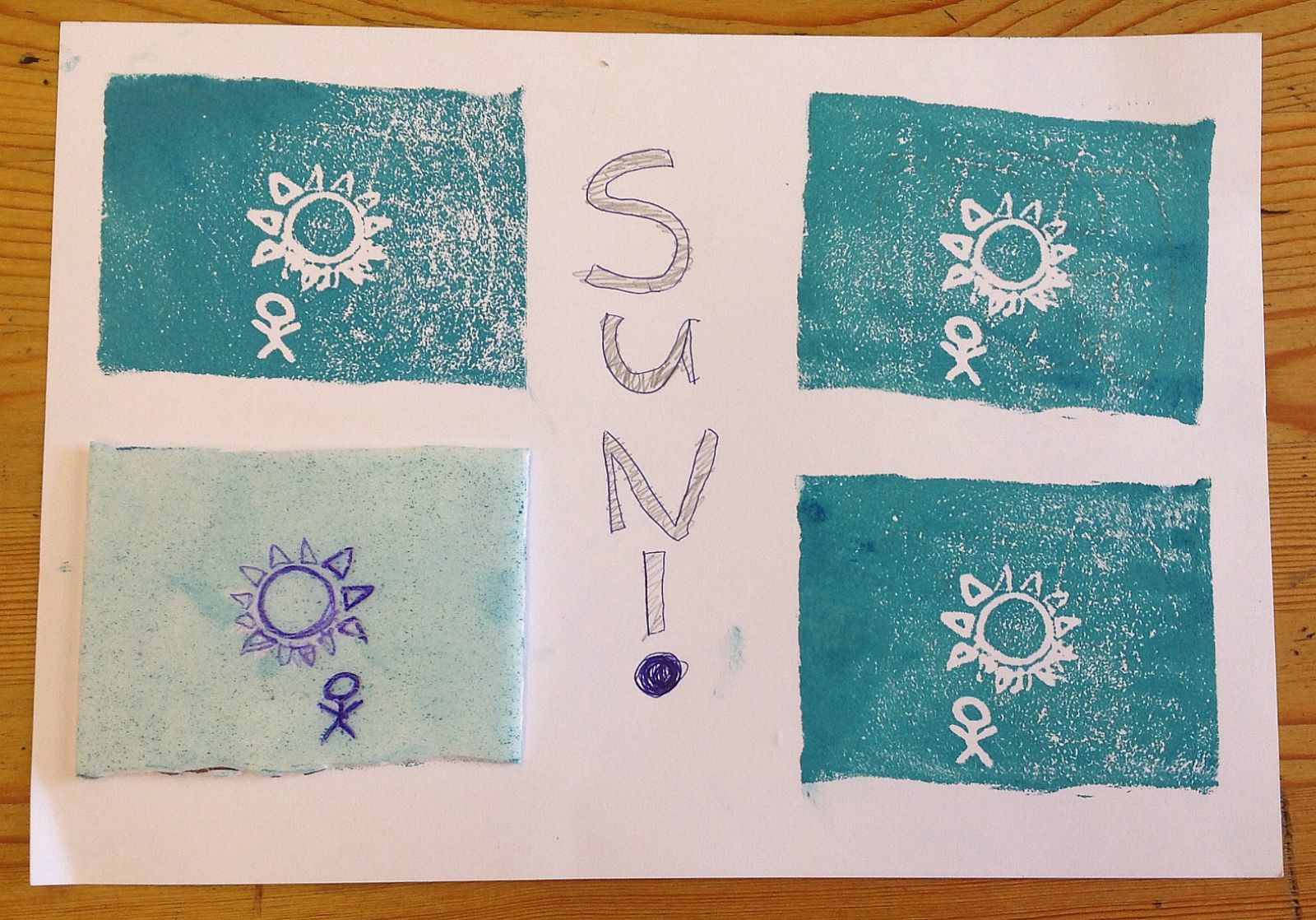 At home I made a painting of a sun and a boy and I brought it for Show and Tell. At the end all of us got to play. It is my friends birthday party today. I got invited to his party.
IW Yr2
Thursday 19 June 2014


At snack time when I was eating a orange my tooth fell out. Then it was home time. My grandma picked me up and we went to my house. Then my dad came home from work and I told my dad that my tooth had come out and then my mum came home from work and I told her that my tooth had fallen out. Then we went to the greenhouse. We watered the plants then my dads friend came. I showed my tooth hole.
PT Yr1
Friday 13 June 2014 – Music Farm Recording Studio
Click here to see the photos.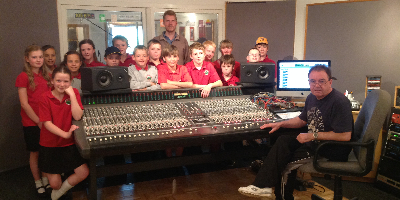 Today the whole of yr6 went to the Music Farm recording studio to record their new song; 'The Funky Croc'. We all wrote it together and decided that we were going to record it and sell it for Cancer research.  I hope that the money we raise will be used for a good cause!
MR Yr6
Tuesday 10 June 2014
"Year 1 and 2 went on the bus to Nelson Thomlinson School and we did lots of sport. We had to throw a ball and if you got to the three you got three points. There was one race where you had to run and do ten jumps. We also had a race with a metal pole. You hold the pole, then you had to run round the cones, and then you give it to another person. It was very fun. My favourite bit was when you raced."
JH Year 2
Thursday 5 June 2014
I like playin with my buddys and showtin outsid and playin with my frend and culerin.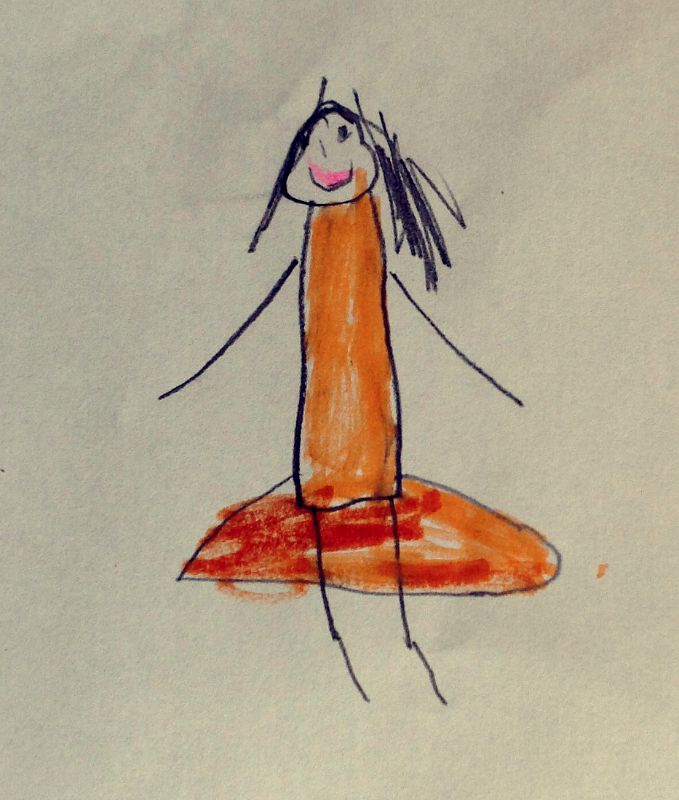 By LS YReception
Wednesday 4 June 2014
I did adding in Maths. I like counting in tens.
I like writing about seagulls.
MT Y1
Monday 2 June 2104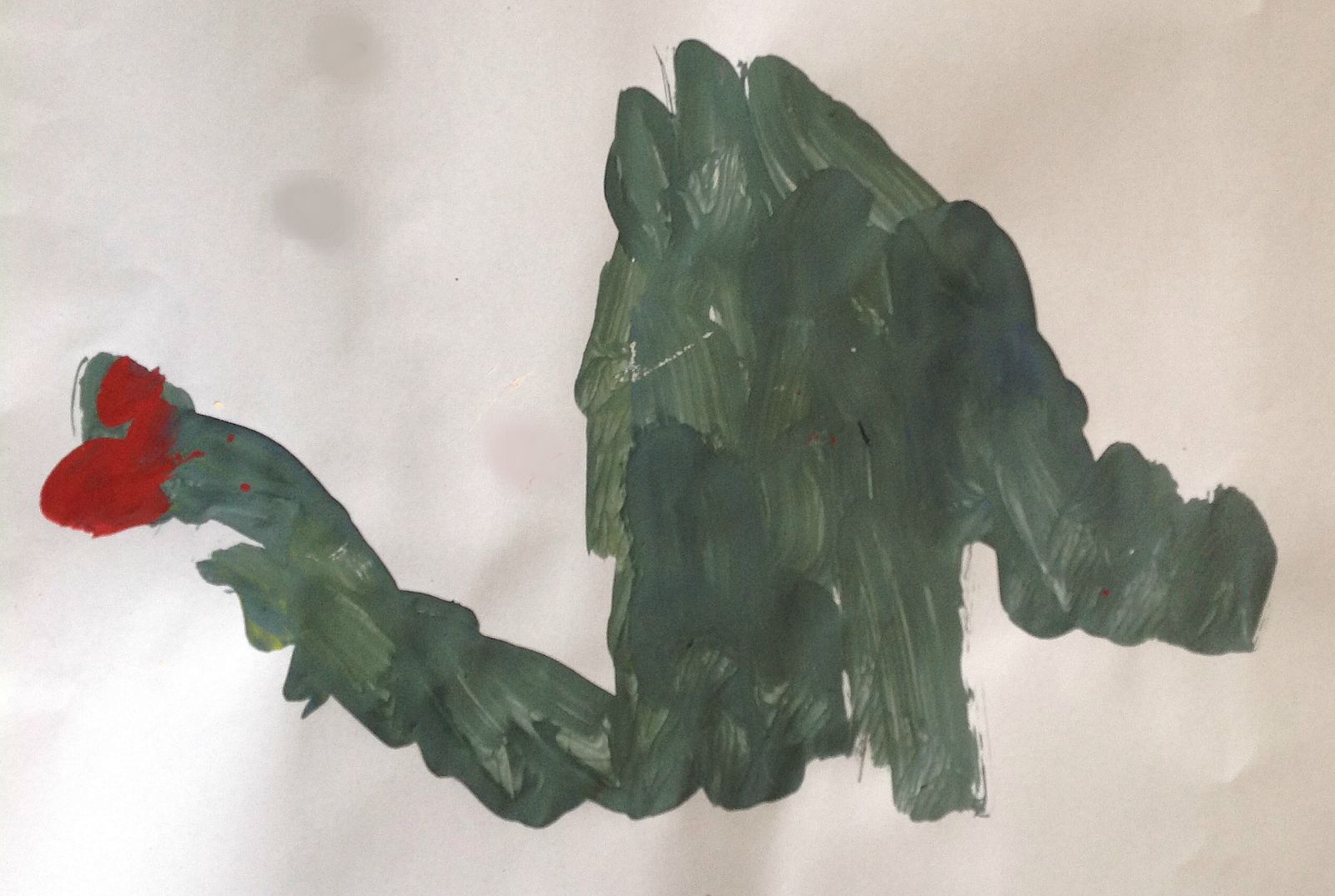 I mad a dinosor. I lik dooin mafs.
by BS YReception
Friday 23 May 2014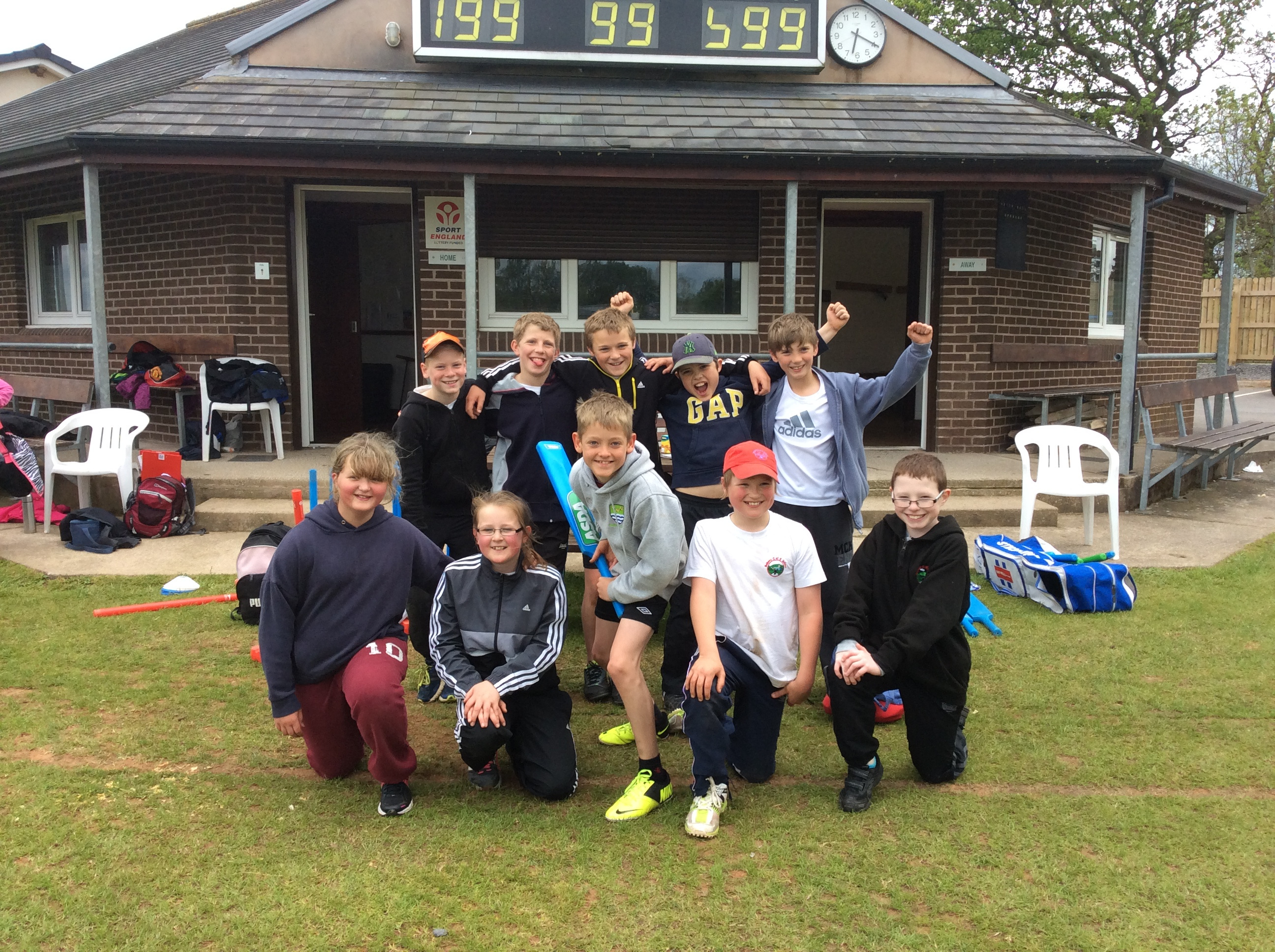 Yesterday some of year sixes and two year fives went to the Wigton Cricket Competition. In the first round we played against Broughton Primary and we played really well. We played four matches and won the competition. Now we are in the county finals, which will be held in Keswick.
The cricketers Yr6
Thursday 22 May
Today we had an assembly with Mr Clarke; today we got to sing a different range of songs from the 'Come and Praise' book. After we sang, we had a few people to come up and choose some good singers that they saw. After there was 8 people up standing, those 8 picked up a musical instrument and played it while Mr Clarke played rock music on the piano. We ended the assembly by getting sent out by class.
AR Yr6
Wednesday 21 May
A few days ago, year 6 did their SATS, the results of these go to Nelson Tomlinson School. On Monday we took part in the reading comprehension. The next day we did the English test and then the spelling test. We did maths tests on Wednesday and Thursday. It was quite fun doing the tests and as a reward, on Friday we had a party afternoon; we got the Wii out and did a dancing game – the whole class did this and it was good fun. All week, during the SATS, we got to bring in chocolate and a little teddy. Mrs J kindly brought in some crisps, chocolate and popcorn for the party afternoon! I really enjoyed the whole week and it was a good memory of all of us dancing for when we leave the school.
AB YR6
Tuesday 20 May 2014
Australia Show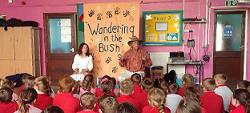 Today we had some Australian people (one man and one lady) called Wandering in the Bush. My favourite part was when we learnt about the instrument digerydo. The show was really funny.
EJ Yr3
Monday 19May 2014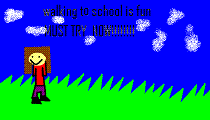 Yay! It was Monday. That meant that it was ICT club. After my last lesson I walked into the corridor leading up to the ICT room and waited with the other people in the club until the leader of the club, Mr Clarke, came. When he came I wandered into the ICT room and sat down on a chair. Then he told us what we needed to do. We were meant to make posters on paint about walk to school week. It sounded fun; I logged on and found the program 'paint'. At once I started to make my poster and in the end I thought it was really good. Well I hope, as it was going to be put on the school website to persuade people to walk to school or walk up the hill. After that we made little videos or a picture of people to walking to school. I made a picture of a girl walking to school. Unfortunately, it was four a clock when I was in the middle of doing it. It was the end of ICT, but at least it was going to be on again after half term.
EH Yr6
Friday 16 May 2014
I have been doing Art Club for a while now and it is really quite fun. We don't just draw, we paint and look at different Artist's styles and we look at different types of art like Abstract art, portraits and landscape sketches. We use many different tools like pastles, paint and sketching pencils. Currently we are making hot air balloons with their own funky and wierd patterns. First we made a blue background which we covered with fluffy clouds, next we drew round a hot air balloon template and know we are designing our own patterns to go onto them. One of my favourite things to do in Art club is go into the ICT room and use programs like paint and 2Do It Yourself programs.
ES Yr6
Thursday 15 May 2014
I enjoy dance club, it is exciting. It is enjoyable because we make up different dance routines and explore many new moves. I really enjoyed the Salsa dance.
AW Yr4
Wednesday 14 May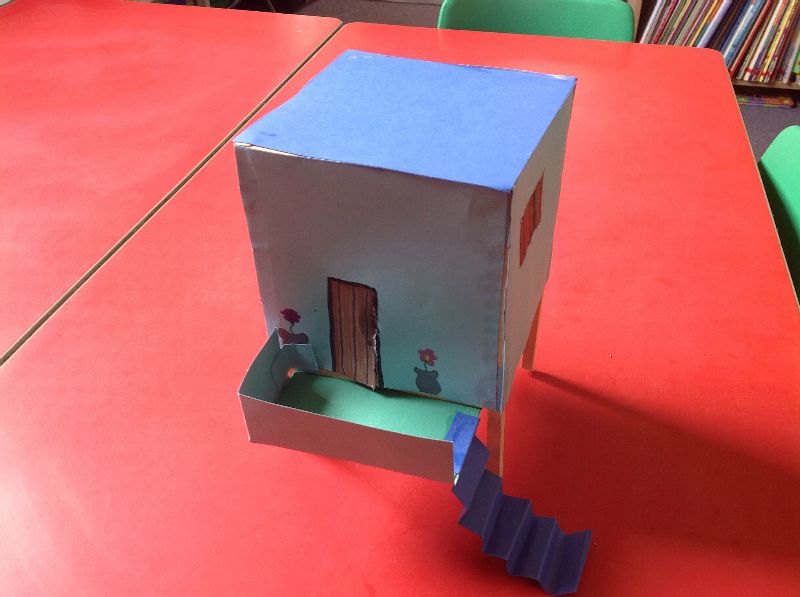 This afternoon, in yr 6, we have been making Caribbean houses; it was quite fun. I particularly enjoyed choosing the colour of my house and making the balcony. It was interesting to see how people designed their houses.
MJ Yr 6
Tuesday 13 May 2014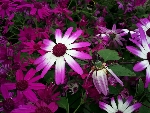 Today Gardening Club went to Dobbies Gardening Centre to find some new plants for our quiet area. My favourite flower was the flamingo plant which was very pink! We found some pretty things.
Click here to see the photos.
EJ Yr3
Monday 12 May 2014
Our Trip To Tully House About Victorian Jobs..
My favourite part was the chamber servant. They had to empty the guzunda (which is a potty), clean out the fire place, and get water for the owners to get washed in. We pretended to be footmen and maids. It was a good trip.
AC Yr4
Friday 9 May 2014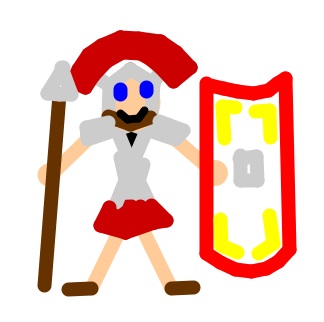 Year Five went to Vindolanda on Hadrian's Wall today. When we got there we saw a wishing fountain and we threw coins in the fountain. A lady called Barbara had some objects to show us including a cow head, a lamb shoulder and an old knife. Then we looked round the old fort. Then we had a look in another museum and gift shop.
We went to the Roman army museum 7 miles away from Vindolanda (a Roman fort on Hadrian's wall). When we arrived at the Roman army museum we went into the Roman classroom where a hologram was waiting for us to tell us all about what it was like to be in a Roman school.
The hologram taught us some Latin numbers and words. It also taught us about the Roman Empire and how it was such a amazing fighting force. Then we went to the museum and went to a cinema. It was a 3D cinema and it taught us about what it would be like to be a Roman soldier on the Roman wall. We all had a lot of fun!
AF JJ JH Yr5
Thursday 8 May 2014 (1)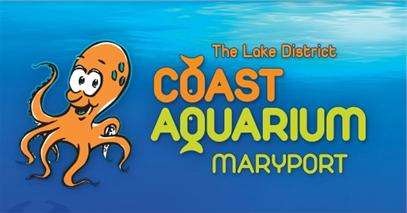 I went to Maryport Aquarium. I saw 12 stingrays in a tub. And 20 sharks in the same tub. My best bit was tuching the stingrays.
IP  Yr2
My favirate part of the aquarium was when a fish ate 3 squids and when a octopus made a crab into a crab smoothy because it sucks up crab's blood.
JS Yr2
Thursday 8 May 2014 (2)



I liked the vilins and the sakafons in the asemblee. I liked singing the song. I ollso liked the big band. The holl band was brilleent.
IJ YReception
Wednesday 7 May 2014
Every Wednesday YR 4 go swimming at Wigton. There is two groups which is a shallow end and a deep end as well and at the end there is 5 minutes to play. In the lessons you get challenges and a hoop in the pool and it goes to the bottom so we can swim thru it. There is a brick that goes to the bottom of the pool which you have to pick it up and bring it to the top and drop it again.
SR Yr4
Tuesday 6 May 2014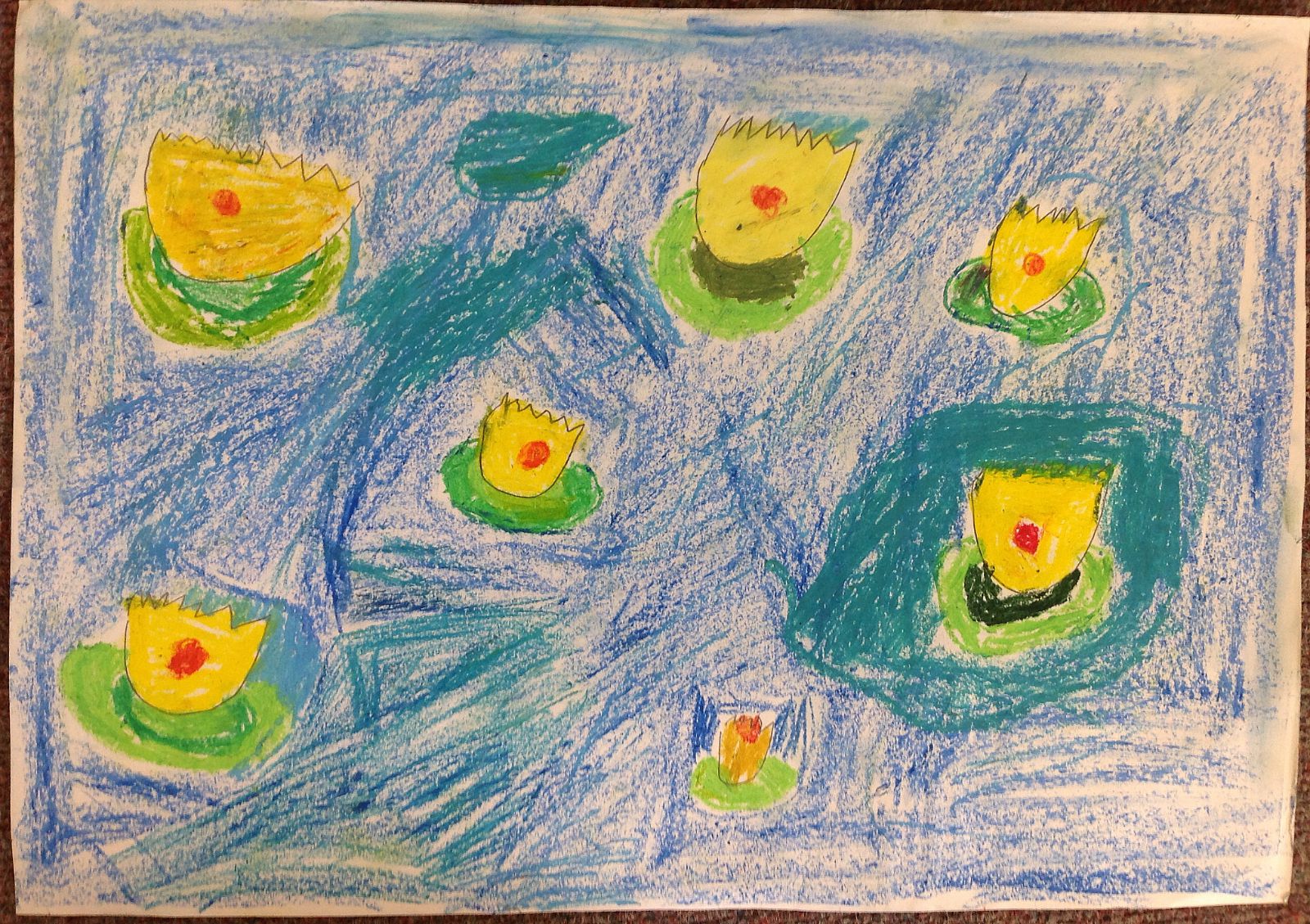 Today I went to art club and we made water lilles. We did it in stages. First we drew the lilles and then surounded them with water. By the time I  had finished my hands were really dirty. It was really fun and I enjoyed it.
MM Yr3
Friday 2 May 2014
We playd tig and we fowned a ladie bird and we named it Spotty. I found it at lunch time play time. We keped lousing him but we keped finding him again. The second time we found him he flew away but we keped looking for him but we couldn't find him. When the bell rang we went inside. We finished are advencha story.
PT AND LH Yr1
Thursday 1 May 2014
Music Assembly



Today we had a music assembly and it was great fun because we were able to listen all types of instruments. All of the children who played an instrument were able to play and I was lucky enough to play in it. I played in it twice. I loved it!!! ZO Yr5
Wednesday 30 April 2014
After school some of the children played netball. It is really fun playing it. More people should ask if they can join in because it is exciting. I like playing netball.
AF YR5
Tuesday 29 April 2014
The Swimming Gala!
It is Tuesday the day of the swimming gala and even though swimming isn't my favourite sport I was a little bit excited. I quickly got changed into my school uniform, tied my hair up and went outside to feed my rabbit Twinkle. After I had fed him I quickly had breakfast and was on the road to school. The morning went really quite fast. First we had maths, then literacy (Noooooo). After the lessons it was break time. I didn't try to run about, because I didn't want to get tired before the swimming gala! Science went fast too, so did lunch and soon I was in the library talking to my team members. After the cheery chat, we went to the swimming baths, where the gala was being held, and got changed REALLY quickly because we were kind of late! The first race was 'the girls free style'. I had to swim, first I was doing front crawl, because that was my best stroke. After all the races had been done the results came. 'In 3rd place is…….. Bolton Low Houses'. We'd come 3rd, Yes!!!!!!!!!!!!!!!!!!!!
AH Yr6
Monday 28 April 2014


Today, in Year 5 we did a French lesson, which was slightly different than usual because we did something like the Weakest Link. It was really good because instead of doing really easy questions, we did quite hard Time questions that included minutes to, minutes past, half past and quarter to/past. After an hour, our other teacher Mrs Garner came in and we started doing Windows Movie Maker in ICT. Everybody really enjoyed that because we got split into four groups and we got to do a documentary on our Uniform that we wear. In a few weeks Mr Clarke is going to come in and show us a bit more about Movie Maker and we are going to choreograph our own movie that will include still photographs, video clips and other interesting things.
BW Yr5
Saturday 26 April 2014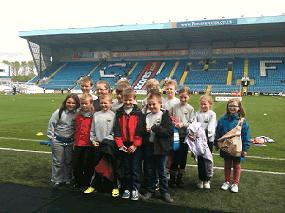 On Saturday I went to a football match with a group of people from this school. It was Carlisle vs Oldham Athletic. When we were there we went to the big shop and I got an autograph book for the Carlisle players to write in. After that we went to our seats and some Carlsile players came up and signed things. I got my hands signed and my book signed. Then I went back to my seat and sat down and watched the match. At half time we all went down to get some chips or a hot dog or a burger. I got chips and had salt, vineger and tomato sauce. We all went back to our seats and then the match started. Oldham Atletic got a goal and when the match finished Oldham Athletic won the match with a score of one nil.
CM YR4
Friday 25 April 2014
Today the whole of the school had an assembly. Because it was a Friday we have an achievement assembly where we get achievements from the week on what we improved and done well. After it had finished my class had gone in to a different classroom to do our mental maths test. Next, we went into a different lesson; that was music with Mr Clarke and the topic was doing Samba. Soon that lesson had finished and we went outside for first break. When we all came in our next lesson was science and we were planning a test to do with forces. It was lunch time, and then came our final break. We all went in, class by class, and finished off any of our work that needed finished. I ended the day by going home.
AR Yr 6
Thursday 24 April 2014
Although I have enjoyed the holidays, I am glad to be back at school to see my friends, my buddy and to learn new things. I have enjoyed starting our new topic about the Caribbean as it is a tropical and colourful place; we began to do artwork based on the landscape of this tropical place. Before the holidays all of yr 6 enjoyed taking in part at the U-dance festival at the Sands Centre in Carlisle. It was an enjoyable night for everyone to remember and we loved every moment. Today, the second day back, I have enjoyed seeing the sun again and playing with my friends, but I can't wait to be able to go outside and enjoy the sunshine! MR Yr 6