February 2020
In art club we have been inspired by the work of Louise O'Hara.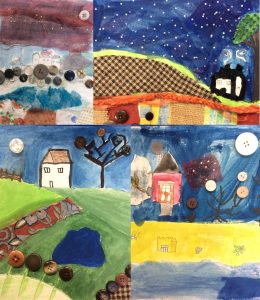 January 2020
We have been thinking about Holocaust Memorial Day and created flame pictures.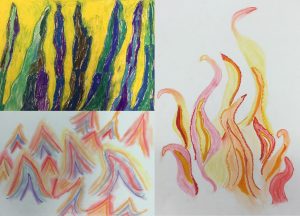 January 2020
We have been sketching in years 5 and 6!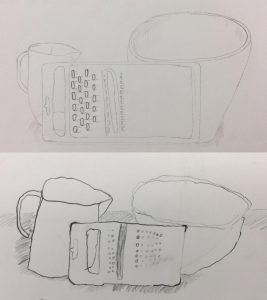 November 2019
The whole school has been preparing their 'Christmas Boards' in advance of Saturday's Craft Fair. Years 5 and 6 have mixed watercolours with poster paints to create their Christmas trees.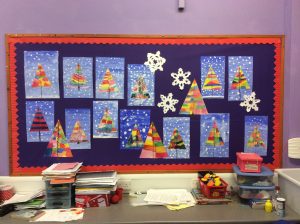 November 2019
In years 5 and 6 we have been drawing what we can see – rather than what we think we can see and then developing abstract designs from the marks we have made.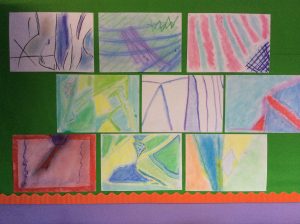 November 2019
In art club we have been experimenting with pastels to make firework effects.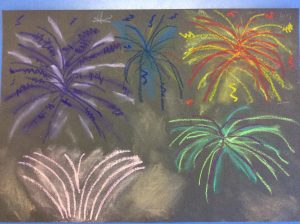 November 2019
In design and technology years 5 and 6 have been designing and making model chairs – we have finally finished them all and they look great. We learnt how to attach the backs to the bases and the legs, which were tricky, to the base using brackets made out of card. We then enjoyed decorating them.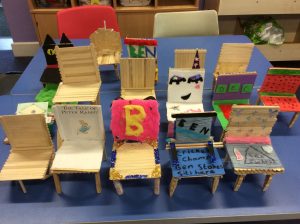 September/October 2019
In design and technology the year 5/6 class have begun to design and make a model chair for a specific client. They have planned their work and are now beginning to make them using lollipop sticks, wooden pegs and card. Meanwhile, in the year 3/4 class they have been learning how to roll paper to make beads that they will incorporate into their handmade jewellery. In art club the juniors that stay to this after school club have begun to learn how to use watercolour paints – concentrating on wash techniques.
June 2019
In Design and Technology we have been designing and making our own draw string bags. We have used running stitch and blanket stitch as well as hem stitch. 
 April 2019
For our assembly we painted pictures to accompany the anonymous poem about World War 1.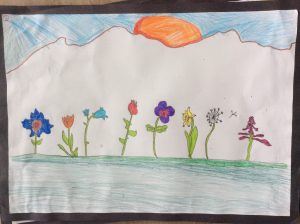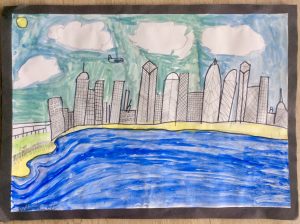 March 2019
February 2019
Tis term we have been learning about World War 2 and enjoyed using paint, paper and oil pastel to create our images of the blitz.
January 2019
In our topic work we have been learning about the different aspects of 'Our Angry Earth'. We created our hurricane pictures using soft pastels and thought that they really helped give our pictures a sense of movement.
December 2018
Winter trees has been our subject this time – using a mixture of pastels and paint.
Autumn 2018
We have been doing some painting and observational drawings of the fruits of autumn.
May 2016
At the Nelson Thomlinson School Art exhibition for GCSE and A2 level art we were all delighted to see how our past students have progressed. Their work was undeniably stunning and we swept the board for prizes at both GCSE and A2 level! Well done to all our past students!
April 2016
In years 5 and 6 we have been looking at and exploring the concepts and ideas that led to the abstract art movement. We have begun by creating our own 'mood' pictures in the style of Kandinsky.
February 2016
Years 3 and 4 have been enjoying looking at 'modern'art. We have looked at cartoons and have recently focussed on the work of Banksy. We particularly enjoyed creating our own graffitti art based on our names.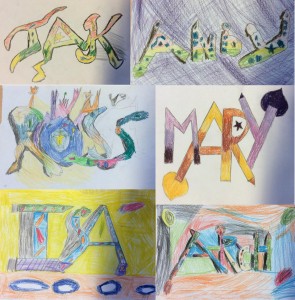 Years 5 and 6 have been learning about different textiles and have created designs based on the work of William Morris. These took a lot of time and a lot of concentration when tracing and repeating the design using both reflection and translation.
October 2015
In years 3 and 4 we have been concentrating on representing tonal changes
.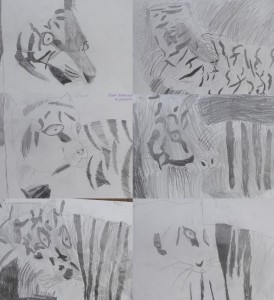 Years 5 and 6 we have been learning how to paint skies properly. We  have shadows at the bases of our clouds; sunshine on their tops and the sky is darker at the top.
We have been working April 2015: We are in the process of designing some sculptures that represent the school's ethos. They are in the style of Henry Moore. We have made them out of clay and are just waiting for them to dry before we photograph them and super-impose them on photographs of the school grounds.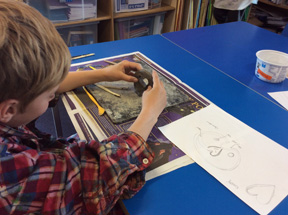 April 2015 : The juniors designed their entries for 'Walk to School Week'.   These were the three that we submitted to the national competition.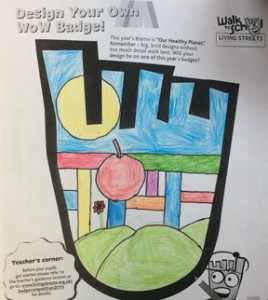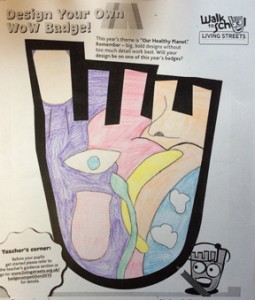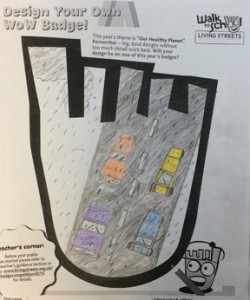 March 2015 :
Here are our mixed media pieces – Ayres Rock. The aboriginal work is being prepared for a display- so watch this space!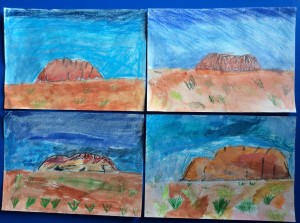 February 2015:
We have been looking and recreating the work of the post-impressionists. We have studied line, colour and form.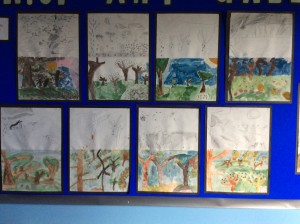 December 2014 :
Continuing our work on Sheila Fell year 5 have been looking at some of her snowy farm scenes and replicating them inspired by local farms.
November  2014 :We have also been learning about the French Impressionists – these pieces have been inspired by Monet.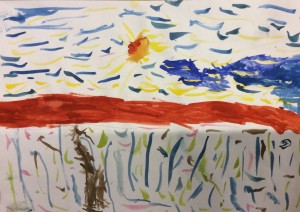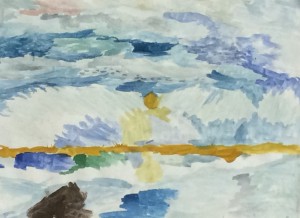 and continuing our work on Sheila Fell. This time we have been using Maryport to inspire us.
November 2014: Following our visit to Boltongate Church,  for our Remembrance Service, we have been doing art work based on poppies – the juniors have been using collage and textiles – we're still working on the textiles – so watch this space!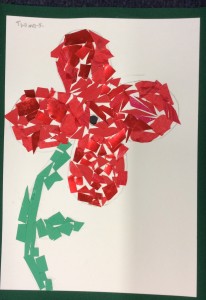 November 2014 : In years 5 and 6 we have been looking at the work of Sheila Fell. We have enjoyed using charcoal to sketch Blencathra – having previously looked at her sketches and paintings of Skiddaw.